Family Recipes
From FamilyLore
This page lovingly dedicated to Flossie Mae Mims who generously shared her recipes, love of cooking, and life's wisdom...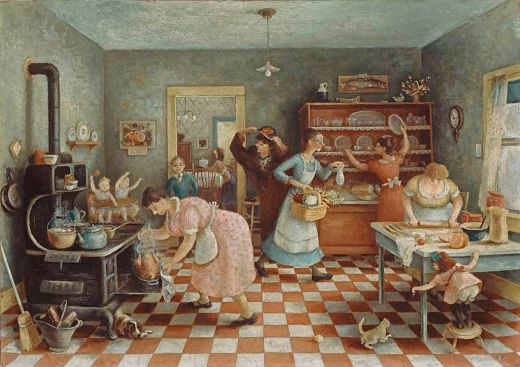 Kitchen
Forget the boardroom. This is where the power is. This kitchen filled with clutter and spice, swirling and dodging, collecting our lives.

It is here that we make Big Decisions, where Peace is restored, Hunger solved, Souls replenished. Here, we make mistakes, red-button catastrophes and, then, apologize and hold one another, hoping to be forgiven, to forgive, never really knowing.

This kitchen, bright and rambling, a world in itself, secures us, like a bouquet of rosemary swinging lightly from the eves, the fragrance of our ragged dreams, our mingled prayers, sustain us as we move beyond the porch steps.
– Anne Kundtz
Somethin's Cookin'! Join in on the fun! Share favorite family recipes at: connect@familylore.org
Desserts
Cakes
'
Annalise's Chocolate Swirl Cheesecake
Contributed by Sheila Darlene Benton
This recipe comes from an Athens, GA friend. It is wonderful!
Ingredients for Crust
1 cup chocolate cookie crumbs (or graham cracker crumbs).
1/2 stick (equivalency of 1/4 cup) melted butter.
3 Tablespoons sugar (I use Turbinado raw sugar).
Step 1: Combine crust ingredients and press evenly on bottom of 9-inch springform pan. Chill while preparing filling.
Step 2: Preheat oven to 350 degrees Farenheit.
Ingredients for Filling
Three 8 ounce packages (equivalency of 1 and 1/2 pound) of cream cheese softened to room temperature.
1 cup all-natural full fat sour cream.
1 cup sugar (Turninado raw sugar recommended).
3 Tablespoons white flour.
3 eggs, separated.
3 Tablespoons liqueur (creme de cacao or amaretto).
One 6 ounce package semisweet chocolate chips melted (Ghiradelli brand).
Step 3: Beat cream cheese, sour cream, sugar, and flour thoroughly together. Add egg yolks one at a time, blending well after each addition.
Step 4: In a separate bowl, whip egg whites until almost stiff, but not dry, and gently fold into cheese mixture. Fold in liqueur.
Step 5: Gently swirl slightly cooled chocolate through cheese mixture to give a marbled effect. Transfer carefully to springform pan and bake at 350 degrees Fahrenheit for 60 minutes.
Step 6: Turn off oven and let cake cool with door open. When cool, remove sides of springform pan. When cake reaches room temperature, chill for several hours or overnight. Keep refrigerated.
Cookies
'
Peanut Butter Cookies
Contributed by Sheila Darlene Benton
Recipe
Ingredients
1/2 cup shortening (a mix of 1/4 cup canola oil and 1/4 cup organic melted butter)
1/2 cup organic (unsweetened) peanut butter
1 cup Turbinado raw sugar
1 egg (free range)
1 cup organic whole wheat flour (NOT self-rising)
1/4 cup organic unbleached white flour (NOT self-rising)
1/2 teaspoon baking power
3/4 teaspoon baking soda
1/4 teaspoon salt
Instructions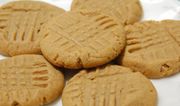 Preheat oven to 375 degrees.
Mix shortening, peanut butter, sugar, and egg thoroughly.
In separate bowl, blend dry ingredients with a whisker. (Note: Measure flour by packing into measuring cup then leveling with table knife).
Gradually combine dry ingredients with shortening mixture.
Chill covered (thirty minutes to an hour).
Roll dough into 1 and 1/4 inch balls (cookie scooper may initially be used, but dough must be molded and packed into balls by hand).
Place cookie balls 3 inches apart on aluminum baking sheet.
With a fork dipped into white flour, flatten balls crisscross style.
Bake for ten to twelve minutes.
Makes approximately 3 dozen 2 and 1/2 inch cookies.
Note: Doubling this recipe is recommended, since these cookies go fast!
'
Sheila's Chocolate Chip Cookies
Contributed by Sheila Darlene Benton
Inspired by Toll House Cookie Recipe
Recipe
Here's my healthier (and I think tastier!) version of a classic treat. Enjoyed by my family for more than thirty years, please note that this recipe uses organic ingredients when possible.
Ingredients:
2 sticks of butter (Room Temperature)
1 and ½ cups Turbinado sugar (raw sugar)
2 whole eggs
1 and 1/2 teaspoons vanilla flavoring
2 and ¼ cups of flour total (a combination of 1 and ¼ unbleached white and 1 cup whole wheat)
1 teaspoon sea salt
1 teaspoon baking soda
1 and ½ cups Ghiradelli all-natural semi-sweet chocolate chips
1 and ½ cups chopped walnuts (optional)
Preparation: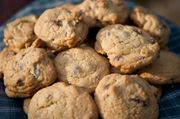 Preheat Oven to 375 degrees F. Place rack in center of oven.
In a large bowl, cream butter with sugar. Add eggs and vanilla to creamed mixture then stir until well blended.
In a separate bowl combine flour, salt, and baking soda. Whisk dry ingredients together until well blended with a wire whisk or fork.
Add dry ingredients gradually to creamed mixture, stirring until well incorporated.
Gradually add chocolate chips to cookie dough mixture until well incorporated. Add chopped walnuts if desired.
Baking:
Scoop (I use a small melon ball scooper) dough onto ungreased aluminum cookie sheet(s) allowing 1 and ½ inches between cookies. Bake in a preheated oven at 375 degrees F for approximately 12 to 15 minutes. Please note that baking time may vary from time suggested based on your oven.
Allow cookies to cool for 1 minute before transferring from pan to wire cooling rack. Delicious served warm or after they have cooled. Note: If you are baking with two pans at a time, rotate the pans halfway through baking and switch racks. This allows for more even baking. Enjoy!
'
Matthew's Chocolate Cookies
Contributed by Sheila Darlene Benton
If you can't decide whether you want brownies or cookies, then this recipe is a great compromise! Named for my son Matthew who sampled the first batch ever made and gave them a thumbs up!
Recipe
2 sticks of organic butter (room temperature)
1 and 1/4 cups of Turbinado raw sugar
2 teaspoons all-natural vanilla flavoring
1 and 1/2 cups od melted 60% Ghiradelli bitter-sweet chocolate chips (slightly cooled)
2 large eggs (free range)
1 cup organic whole wheat flour (NOT self-rising)
1 and 1/4 cup organic unbleached white flour (NOT self-rising)
1 teaspoon baking soda
1 teaspoon sea salt
1 cup chopped walnuts (optional)
Instructions
Preheat oven to 375 degrees Farenheit
You will need two mixing bowls, one large and one medium sized.
Step 1
In the large bowl cream butter (room temperature), add sugar. After creaming butter and sugar, add vanilla flavoring, then melted chocolate (follow microwave suggestions for melting chocolate on product package).
Step 2
Incorporate into this creamed mixture the two eggs, making sure to blend well.
Step 3
In the medium bowl add all flour, baking soda and salt. Whisk these ingredients to blend well. A fork can be substituted for a whisk.
Step 4
By thirds, begin to combine the dry ingredients into the wet, stirring until well incorporated, add nuts (optional), and blend well.
Step 5
Using a melon ball or cookie scooper, drop generous scoops of cookie dough onto aluminum cookie sheets that have NOT been greased. The dough should not be leveled in the scooper, but placed by dollops onto the pans approximately 1 and ½ inch apart.
Step 6
Cookies should be baked for approximately 14 minutes. Please note that baking time may vary depending on the oven. Two pans of cookies may be baked at the same time, but should be shifted from one rack to the other and rotated halfway through baking to insure uniformity. I prefer to bake one pan at a time in a conventional home oven for best results.
Step 7
When finished baking, allow the cookies to sit in their pans for at least three minutes then gently transfer them with a wide spatula to a cooling rack.
Initially, these cookies are very soft and should be handled with care. Allow them to cool completely before serving to prevent breaking apart.
Sweetness will increase as the cookies cool down.
These cookies are hard to resist and make a lovely gift. For a more decorative touch, lightly sift confectioner's sugar on top of the cookies while they are still warm.
Smoothies
'
A Very Berry Smoothie
Contributed by Sheila Darlene Benton
I love smoothies, and this recipe is as healthy as it is delicious. A little extra finessing makes it especially good.
1 Cup Orange Juice (Treat yourself to fresh squeezed or a brand that is not from concentrate.)
2 Cups All-Natural Organic Strawberry Yogurt
1 Cup Frozen Sweet Cherries (no sugar added)
1 Cup Frozen Blueberries (Wild blueberries offer even greater health benefits than farm-grown.)
3 Level Tablespoons of Vanilla-flavored Protein Powder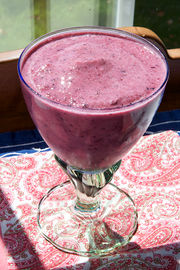 Pour the orange juice into a blender suitable for making smoothies. Add the yogurt, followed by the protein powder and frozen berries. Blend at smoothie speed for about one minute. Enjoy!
The finessed version:
For a step up in enjoyment (and this is where the finessing comes into play), reserve a cup or two of the prepared mixture and freeze in small batches (e.g., ice cube trays). The next time that you make this recipe, add the frozen reserve in with the full recipe for a wonderful icy version.
Bread
Sweet Breads
'
Spiced Pumpkin Bread
Contributed by Sheila Darlene Benton
Inspired by recipe from Bon Appetit Magazine 11/95
This recipe makes 2 Loaves.
Ingredients
3 cups Turbinado raw sugar
1 cup vegetable oil (e.g., canola oil)
3 large free range eggs
One 15 ounce can solid pack pumpkin (e.g., Libby's)
1 and 1/2 cup organic whole wheat flour (NOT self-rising)
1 and 1/2 cup organic unbleached white flour (NOT self-rising)
1 teaspoon ground cloves
1 teaspoon ground cinnamon
1 teaspoon ground nutmeg
1 teaspoon baking soda
1/2 teaspoon sea salt
1/2 teaspoon baking powder
1 cup coarsely chopped walnuts (optional)
Instructions
Step 1: Preheat oven to 350 degrees Fahrenheit.
Step 2: Butter and flour two 9x5x3 inch loaf pans.
Step 3: In a large bowl, beat sugar and oil. Mix in eggs and pumpkin.
Step 4: In another large bowl, sift flour, cloves, cinnamon, nutmeg, baking soda, salt, and baking power. Stir into pumpkin mixture in 2 additions. Mix in walnuts (if desired).
Step 5: Divide batter equally between prepared pans.
Step 6: Bake until table knife (or thin wooden tester stick) comes out clean, approximately 1 hour and 10 minutes.
Step 7: When finished baking, transfer to rack and cool 10 minutes. After cooling, use a sharp knife to cut around edges of loaves, then turn loaves out onto the cooling rack and cool completely.
These loaves will be even more delicious the day after baking.
'
Pumpkin Walnut Muffins
Contributed by Sheila Darlene Benton
Inspired by Williams-Sonoma Recipe for Maple Leaf Shaped Muffin Pan
Ingredients
2/3 cup (90 g) organic whole wheat flour
2/3 cup (90 g) organic unbleached white flour
1/2 teaspoon baking power
1/2 teaspoon salt
1/2 teaspoon ground cinnamon
1/2 teaspoon ground cloves
1 cup (150 g) Turbinado raw sugar
2/3 (160 g) packed pumpkin (e.g., Libby's)
2 large eggs
6 Tablespoons, unsalted butter, melted
2/3 cup (160 ml) whole milk
2/3 cup (80 g) chopped walnuts
Instructions
Step 1: Position an oven rack in the lower third of the oven. Preheat oven to 375 degrees Fahrenheit (190 degrees C).
Step 2: Grease and flour two 6-well regular-sized muffin pans.
Step 3: In a large bowl, sift together the flour, baking soda, baking powder, salt, cinnamon, and cloves. Set aside.
Step 4: In another large bowl, whisk together the sugar, pumpkin, and egg until well combined. Add the melted butter and milk and whisk until smooth, about 1 minute.
Step 5: Add the flour mixture and stir until just combined. Stir in the walnuts.
Step 6: Fill each muffin well about halfway. If using only one muffin pan, cover and refrigerate the batter until ready to use again.
Step 7: Bake until the muffins are golden brown, about 15 minutes or until a wooden toothpick inserted into middle of muffin comes out clean.
Step 8: Transfer pan(s) to a cooling rack and allow to cool for 15 minutes, then then turn the muffins out onto the rack to cool completely.
Step 9: If reusing the same muffin pan, allow the pan to cool for 10 minutes. Wipe out the wells with paper towels. Grease and flour the pans once again and fill with remaining batter.
This recipe makes approximately 2 dozen muffins. The use of decorative maple leaf muffin pans adds a festive touch.
'
Fantastic Muffins!
Ingredients:
Etc.
Side Dishes
Stuffing and Dressing
'
Oyster Dressing
Contributed by Sheila Darlene Benton
Inspired by a recipe from Paula Dean
Ingredients
Cornbread: (For cornbread used, please see recipe for sour cream corn muffins in bread section)
Dressing:
7 slices all-natural dried out white bread (this can be accomplished by leaving out overnight or baking for several minutes in the oven at a low temperature).
Cornbread
1 sleeve saltine crackers
2 cups chopped celery
1 large onion
8 Tablespoons butter
7 cups chicken (see my homemade version in clam chowder recipe)
1 teaspoon sea salt
1/2 teaspoon freshly ground black pepper
1 teaspoon dried sage
1 Tablespoon poultry seasoning
5 eggs, beaten
1 quart (or 2 pints) oysters, drained
Instructions
Step 1: To make the dressing, crumble and combine cornbread, dried bread slices, and crackers. Set aside.
Step 2: Sauté chopped celery and onion in butter until transparent, approximately 5 to 10 minutes. Pour over cornbread mixture.
Step 3: Add stock, mix well and add salt, pepper, sage, and poultry seasoning. Add beaten eggs and mix well.
Step 4: Add oysters and mix.
Step 5: Pour combined mixture into a greased pan (I use a medium sized to large white Corning casserole dish). Bake for about 45 minutes to an hour and a half. My experience has been that it takes longer than 45 min.
Note: It is best to make your cornbread the previous day, so that you can move quickly through this recipe and get it into the oven. After baking dressing, allow it to sit approximately 20-30 minutes. It tastes even better the following day!
Additions to recipe: Adding walnuts, dried cranberries, and/or dried all-natural apricots to the cornbread mixture also adds a tasty twist to the recipe and is appealing to the eye.
Potato Salad
'
Addie's Potato Salad
Contributed by Sheila Darlene Benton
Like many Southerners, my grandmother Addie loved to cook. One of her favorite dishes to make was potato salad. I have never tasted a better version than hers. Over the years, I have added some ingredients of my own, and tweaked it here and there, but it still, in essence, is the same basic recipe that she lovingly prepared. On a hot Georgia day, cold potato salad served with sweetened iced tea, was a wonderful way to make the heat much more bearable. Potato salad should be made a day in advance to give the flavor time to develop.
5 lb. Bag of Red Potatoes, chopped into large cubes
1 small jar of Canola Mayonnaise (I use the Spectrum all-natural variety or homemade)
2 stalks of Celery chopped
10 cooled, Boiled Eggs, chopped (Reserve 2 of the eggs for decorating salad.)
2-3 Tablespoons of Golden Brown Mustard (I use Gulden's)
1 large Red Bell Pepper, chopped
1 large Sweet Yellow Onion, chopped
3-4 Tablespoons Sweet All-natural Relish (I use Cascadian) or chopped Sweet Pickles
1 to 1 1/2 Tablespoons Turbinado (Raw) Sugar
1 to 1 1/2 Tablespoons juice from a Lemon
1Tablespoon Apple Cider Vinegar
1 to 1 1/2 Tablespoons Paprika
Salt and Pepper to taste
Parsley for garnish
After boiling potato cubes in salted water (potatoes should be soft enough to stick a fork through, but still a little firm), drain and allow to completely cool. In a very large bowl, combine cooled potatoes with other chopped ingredients and toss until well mixed. Be careful not to pulverize potatoes. Next, add mayonnaise, mustard, relish, sugar, lemon juice, vinegar, paprika, salt and pepper. It will be difficult at this stage to determine the true flavor of the salad, but following several hours of refrigeration (highly recommended) the true flavor will emerge. You might want to add more pepper, salt, lemon juice, etc., following refrigeration.
Spoon salad into serving bowl, slice reserved eggs lengthwise (about 4 slices per egg) and use to decorate top of salad. Sprinkle with additional paprika and garnish sides with fresh parsley. Cover and refrigerate until ready to serve.
Minced chives can also be a tasty addition.
'
Blue Cheese Dressing or Dip
Contributed by Sheila Darlene Benton
Dressing:
1 and 1/2 cups plain yogurt
1/2 cup canola mayonnaise
1/2 cup sour cream
1/2 cup buttermilk
1/3 cup crumbled blue cheese
3 Tablespoons of minced sweet onion
2 cloves of crushed, then minced, garlic
1 Tablespoon of grated fresh Parmesan cheese (packaged may be substituted)
1 teaspoon apple cider vinegar
1/4 teaspoon curry
1/4 teaspoon oregano
1/4 teaspoon thyme
1/8 teaspoon black pepper
salt to taste
After mixing all of the ingredients together in a bowl, I like to transfer the mixture to a clean glass jar with a screw-on lid. I give the jar a few shakes to further blend the ingredients then refrigerate it overnight. This gives the flavor sufficient time to develop. This dressing is wonderfully fresh tasting, and after refrigerating overnight, a delicious blend of tastes.
Dip:
Prepare as above, but omit buttermilk, and leave mixture in bowl rather than transferring it to a glass jar.
Soups and Chowders
Clam Chowder
'
Sheila's Clam Chowder
Contributed by Sheila Darlene Benton
Please know that this recipe represents my tinkering to create a delicious clam chowder. There are no set quantities, since my approach basically involves tweaking the taste as I go along.
Ingredients:
Butter (1½ to 2 sticks of sweet cream butter)
Onions (2 very large)
Organic Celery (several stalks)
Chicken Stock (several cups– approximately 6). I make mine from scratch (see recipe below).
Chicken bullion cubes to taste (approximately 4 to 6)
Bay leaves (3 or 4)
Salt and freshly ground pepper to taste
Cooking sherry (To taste, perhaps ¼ cup to start)
White Unbleached Flour
Varying combinations of whole milk and heavy cream OR just whole milk
Crisp Crumbled Dried Bacon (set to dry on paper towel to absorb excess grease)
Organic frozen corn (small package)
Potatoes, cubed and steamed until tender but not mushy (Maybe 6)
Clams (4 to 5 eight ounce containers) normally not drained or washed unless packaging specifies otherwise.
Old Bay seasoning to taste (don't overdo it, you can always add more later!) A few shakes around the pot.
Minced fresh parsley (Maybe 4 tablespoons)
In a large sauté pan, melt butter over a gentle flame (do not burn) then sauté celery and onions in melted butter. Place sautéd onions and celery into a stockpot. Add premade chicken stock and stir. In a separate mixing bowl, add about ½ cup white unbleached flour with ½ cup whole milk and mix with a whisker until no lumps are evident. Combine the flour/milk mixture with the ingredients in the stockpot and stir.
As the stockpot mixture begins to thicken, begin adding more milk or more milk and cream until desired quantity of liquid is achieved. Note that it may become necessary to add additional flour/milk mixture (as above) to further thicken the chowder. The desired thickness is a matter of personal taste. Also, more cream will produce a richer, creamier liquid than just plain whole milk. Sherry should be added at this point as well, since it will contribute to the overall consistency of the liquid. Don't forget to leave room in the stockpot for your clams, etc.
Once the desired thickness is achieved add bay leaves (see note at end), crumbled bacon, and pulverized chicken bullion. Cook for 30 minutes, then sample for desired level of salt and pepper (bacon will itself contribute salty taste to chowder). Add potatoes, corn, and clams. Continue cooking over a slow heat for the next hour or so. Afterwards, turn off the heat and allow the chowder to come to room temperature (several hours). Refrigerate for at least one day (two is better). Place a sample portion in the microwave following refrigeration to taste for any further needed seasoning. Add further seasoning if necessary.
Clam chowder is especially tasty served with sourdough bread.
Special note: Never refrigerate or freeze anything hot. Botulism can occur. Always bring food to room temperature before refrigerating or freezing.
Homemade Chicken Stock: Chicken stock is made by placing about a dozen pieces of chicken in a stockpot (the bay leaves are better added at this point rather than later) and covering them with approximately an inch and a half to two inches of water (I use Poland Spring). Your goal is to derive several cups of chicken stock, so the more stock needed the greater number of chicken pieces required. I use skinless chicken thighs. Bring the ingredients to a boil, then keep them cooking over a low heat until the meat has had time to saturate the water with flavor. I'm guessing a couple of hours. Keep the pot covered, so that the steam from your pot does not rob you of the liquid. Once done, allow the stock to cool, then remove chicken and bay leaves. Skim excess fat from top of stock. Stock can be placed in refrigerator for a while to make fat congeal which will make skimming it much easier.
Wonderful with sour dough bread. Enjoy!