Home
From FamilyLore
The ancestry wiki for the Benton, Mims, Wright, and Farwell families and their relations!
FamilyLore.org is under heavy construction!
Are you a relative?
FamilyLore.org is eagerly seeking submissions of photos, anecdotes, biographical sketches, etc. for our family profile pages. Please contact us at connect@familylore.org!
Person of the Day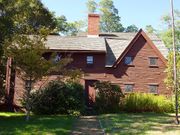 John Balch »
John Balch (Before 1605 - May 1648) was born sometime before 1605 in Horton, Somersetshire, England. Little or no information is available about John's family and we know virtually nothing about his time in England. It isn't until 1623 that we begin to see more information about John Balch. In 1623, joining with Captain Robert Gorges and others in the "Gorges Company", John came to North America - aboard the ship Zouch Phoenix (Phenix?) [2]. Landing at a place known as Wessegusset (modern Weymouth, Mass.) Robert Gorges and his company set out to build a successful colony. Shortly after the removal of the first colony in the spring of 1623 the second colony arrived with Captain Robert Gorges. The first inhabitants of this new colony, in the beginning, tried to build and make their living purely through farming. In 1624 the colonists, hoping to make a profit, established the Dorchester Company and attempted to set up a successful fishery at Cape Anne. In the end the fishery at Cape Anne was a failure and some colonists returned to England while others remained in the general area to return to agriculture. John Balch was one of about thirty colonists that remained in the region as they moved to a place better suited for farming. Settling in Naumkeag the colonists built a town that would one day become known as Salem. Presumably John's final years were spent in developing his lands and farming. In May of 1648 John passed away willing his lands to his son Benjamin with provisions to take care of his wife.
FamilyLore.org is currently researching surnames including:
Mims
Smith
Stone
Taylor
Tyrwhitt
Van Steenburgh
Webb
Welby
Willis
Wright

Our special thanks to...
Sheila Wright
John Wright III
Karen Lynn Miller
Joshua Wright

Curator
Curator
Contributor
Administrator