Home
From FamilyLore
The ancestry wiki for the Benton, Mims, Wright, and Farwell families and their relations!
FamilyLore.org is under heavy construction!
Are you a relative?
FamilyLore.org is eagerly seeking submissions of photos, anecdotes, biographical sketches, etc. for our family profile pages. Please contact us at connect@familylore.org!
Person of the Day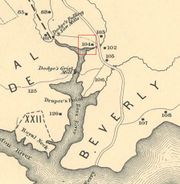 Benjamin Balch, Sr. »
Benjamin Balch (winter of 1628-9 - Unknown) was born in Naumkeag (Salem) to John and Margary Balch. Benjamin is
believed to be the first male born in the Naumkeag colony.
In September of 1628 the colony became part of the Massachusetts Bay Colony and in July of that year Naumkeag was renamed Salem. Upon the death of Benjamin's father he received half of the land John acquired through a land grant (the location of this land is shown in the image with a red square and "104" marking the location). Later Benjamin purchased his brother John's share of the farm and still later, upon his presumed death, Benjamin gained ownership to his brother Freeborn's portion of the farm. Modern studies seem to indicate that Benjamin built the house that now remains on that property as a museum (the Balch House).
Benjamin would remain on the property of his father for the remainder of his life. During this time he would be married three times and have thirteen children. His first wife was Sarah Gardner and he married her in Beverly, Massachusetts in 1650. Benjamin would be married to Sarah for approximately thirty eight years and it was this marriage that would produce eleven out of thirteen children. In 1686 Sarah died and on February 5, 1688 (or 1689) Benjamin would marry his second wife Abigail. Abigail died in January of 1690 and Benjamin would remarry on March 15, 1691 (or 1692) to Grace Mallet. In his last marriage Benjamin would have two more daughters.
FamilyLore.org is currently researching surnames including:
Mims
Smith
Stone
Taylor
Tyrwhitt
Van Steenburgh
Webb
Welby
Willis
Wright

Our special thanks to...
Sheila Wright
John Wright III
Karen Lynn Miller
Joshua Wright

Curator
Curator
Contributor
Administrator